You consent to these terms and conditions when you use this site, or place an order with Alzheimer's & Dementia Products Ltd.
Business Customers
If you place an order with Alzheimer's & Dementia Products Ltd as a registered business, you also agree to our Business Terms & Conditions.
Privacy Policy
You consent to our Privacy Policy when using this site.
Pricing
We aim to provide the most accurate prices at all times. In the event of a pricing error, we will contact you to see if you still wish to receive the product at the new price, if you decide against this we will refund your order in full.
The only currency accepted by the site is UK Pounds Stirling (£) and all prices are displayed in that currency.
Availability
Although we do try to ensure that the website displays the most up-to-date availability information, availability for each product is subject to change. We will let you know if a product you have ordered is unavailable for any reason, and offer you an estimated delivery date, or a full refund.
Payment methods
Full payment for all orders is required at the time of ordering. Goods remain the property of Alzheimer's & Dementia Products Ltd until payment is received. Payment can be made using the following methods:
Card Payment Online: Visa, MasterCard, Maestro, or Solo
Card Payment via telephone
PayPal
Cheque
Official Purchase Order
Bank Transfer
VAT
Alzheimer's & Dementia Products Ltd is registered for VAT. Our VAT Reg No is GB132 2721 52.
All prices shown include VAT, our invoices also show the VAT rate and how much VAT has been paid.
International customers outside of the EU will not be charged VAT.
Delivery details & charges
Delivery costs are shown with each individual purchase. The goods will usually be delivered within 2-3 business days from when we receive the order. The courier we use is Royal Mail.

All deliveries require a signature, for this reason, some customers may prefer giving an alternative address for delivery, such as a work address.
If there isn't anyone available to sign for the delivery then the courier will leave a contact card explaining the option of another delivery date, or to pick the package up from a local depot. These options will depend on the local Royal Mail systems and may differ depending on location.
Delayed delivery & lost orders
In the unlikely event of a lost parcel, we will offer the option of sending identical replacement goods (if available) or issue the customer with a full refund including delivery costs.
If you have received an email confirming dispatch, and the order has not arrived after 4 working days, then please contact us and we will contact Royal Mail to track your package.
We will not be held responsible for any delay or delivery failure under these terms & conditions if the delay or failure is for any reason outside our control.
You are solely responsible for all details entered on our online system, please ensure that all contact details are accurate, especially delivery addresses. We are not liable to refund orders or to rearrange deliveries if the error was due to the customer providing misinformation.
Altered dispatch dates
If, after receiving a customer order, an immediate dispatch isn't possible due to unforeseen circumstances, then we will contact the customer as soon as possible to explain the situation and to discuss an estimated dispatch date.
At this point, the customer can choose to either wait for the delayed order or request an immediate and full refund.
Failed Deliveries
If there isn't anyone available to sign for your parcel then Royal Mail will leave a contact card to arrange a redelivery, alternatively, you can pick up your parcel from your local depot.
At AlzProducts we offer a fast & fully tracked delivery system with email notifications throughout the process.

However, it is not our responsibility to ensure that somebody is at the delivery address to sign for the order and we are not obliged to offer a free redelivery of the goods.

If we receive a failed delivery from our courier, we will contact the customer and offer a refund for their order (excluding original delivery costs) or ask for an additional charge to cover the redelivery of the order.
Returns & refunds
We offer a 28-day return policy for any product purchased from our website. Return the product along with the invoice with all original packaging and in the condition it was delivered.
All return postage must be paid for by the customer unless the goods are faulty, or incorrectly dispatched. All returns must be sent via a "signed for" postal service so they are traceable.

Any refund will be processed within 48 hours once we have received the return goods, please be aware that it may take slightly longer for the refund to appear in your bank account.
Claims for Non-Delivery
Claims for non-delivery must be made within 30 days of the date of order. Claims for shortages and damages must be made by within 5 working days of receipt of goods. All original packaging must be retained for inspection.

Claims not received within this period may not be met. Our preferred method of claiming is via email to ensure there is a record of all communication between us and the customer.
Guarantee
We offer a minimum of a 12-month guarantee protecting you against product faults, this does not include normal wear and tear. The guarantee covers either an identical replacement product or a full refund of the product, this decision is solely at our discretion.
Methods of Contact
The preferred method of contact to discuss returns is email, this ensures that all communication is saved and can be referenced, however you are welcome to discuss your return via telephone at any time.

All our contact details can be found on our Contact Us page. If there is any query regarding our terms & conditions, privacy policy, or any other matter, then please do not hesitate to contact us.
Changes to Terms & Conditions
We reserve the right to change or update these Terms & Conditions without prior notice to users.
External Links
Certain links on this site will lead to websites not under our control. They are provided solely for your convenience and do not constitute any endorsement of any third party products or services. We accept no responsibility for any loss or damage you sustain by visiting these websites.
WEEE Regulations
As a rule, electrical and electronic equipment (EEE) shouldn't be disposed of along with household waste. EEE may contain hazardous substances which, if exposed, could cause a serious detrimental effect on the environment, wildlife, and human health.
What can be recycled?
Products that should not be disposed of along with household waste will be marked with this icon: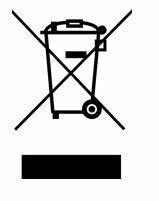 To remind you that old electrical equipment can be recycled, it is now marked with the crossed-out wheeled bin symbol, shown above. Please do not throw any electrical equipment (including those marked with the crossed-out wheeled bin symbol) in your bin.
Why Recycle
Unwanted electrical equipment is the UK's fastest-growing type of waste.
Many electrical items can be repaired or recycled, saving natural resources and the environment. If you do not recycle, electrical equipment will end up in landfill where hazardous substances will leak out and cause soil and water contamination – harming wildlife and human health.
Ways To Recycle
If you'd like to dispose of electrical or electronic equipment for recycling, we recommend that you:
Donate the unwanted item to a charitable organization
Take it to a Designated Collection Facility (DCF) run by your local authority (you can find your nearest DCF by visiting www.recycle-more.co.uk)
Take part in national recycling campaigns
Return eligible items to AlzProducts for free recycling (check if your item is eligible below)
Eligible Items to Recycle at AlzProducts
AlzProducts is obliged under these regulations to offer our retail customers free take-back of their WEEE on a like-for-like basis when they buy a new Electrical or Electronic product from us.
To be eligible for free recycling at AlzProducts, you must have:
Placed an order at AlzProducts within the last 30 days
Additionally, that order must;
Contain an electronic/electric item of the same type as the product you would like to recycle
For example, if you bought a new Remote Control from us then your old remote control would count as an eligible item.
The Recycle/Return Process
Contact Us with your order number and a description of the item you would like to recycle
We will check eligibility and, if eligible, provide a free prepaid returns label
Package your item and return it to us
We will dispose of/recycle your item
When you contact us and we have confirmed your return we will provide more detailed information.
Our Responsibility
AlzProducts is obliged under these regulations to offer our retail customers free take-back of their WEEE on a like-for-like basis when they buy a new Electrical or Electronic product from us.
For example, if you bought a new Remote Control from us we would accept your old remote control and prevent it from going into a landfill site by disposing of it safely.